Regular price
$20.00 USD
Sale price
$10.00 USD
Unit price
per
Sale
Sold out
Limited quantities available for this collection. Each is a self-contained story and cone signed. You will receive:
Limited to 1000, Monday Fatality: Mandagr is a one-shot werewolf horror story (not for the kids) set during the Inquisition. SIGNED by David Hayes. This is extreme! 
(W) David Hayes (A) Sean Seal, 
2019, Source Point Press
First Printing, The Rejected: Dead Girl
(W) David Hayes, Josh Sobek (A) Corey Christian Anderson, Dan Gorman
Mr. Teeth and The Rejected return in this new one-shot from Source Point Press! While engaged in their usual wicked deeds, The Rejected are confronted by Miranda, a young disabled girl. Unlike the rest of the world, she can see The Rejected and she wants to stop them from hurting the children in her neighborhood. Mr. Teeth finds out that Miranda is special. She is The Dead Girl and he may have met his match.
Limited to 1000! Salvagers: Contagion. One-shot, self contained story. SIGNED by David Hayes!
(W) David Hayes (A) Stan Yak
Expanding Bob Salley's Salvagers universe, this comic is written by David C. Hayes, with artwork by Stan Yak.
Andy is the captain of, quite possibly, the worst ship in the Harrier fleet. The half-Kelanian/half-human Salvager hasn't had the best luck. After the death of his parents, Andy and his brother David, inherited the ship and went into business for themselves... and business sucks. That is only reason they agree to take the shady salvaging contract that their tech, Riggs, won in a drinking contest. Little do they know that the research vessel they board is filled with something that didn't exist a few weeks ago. Something horrible and dangerous and desperate wants to get off that ship and it plans on infesting and then killing everything in it's path. Including the crew of the The Scarecrow.
Share
View full details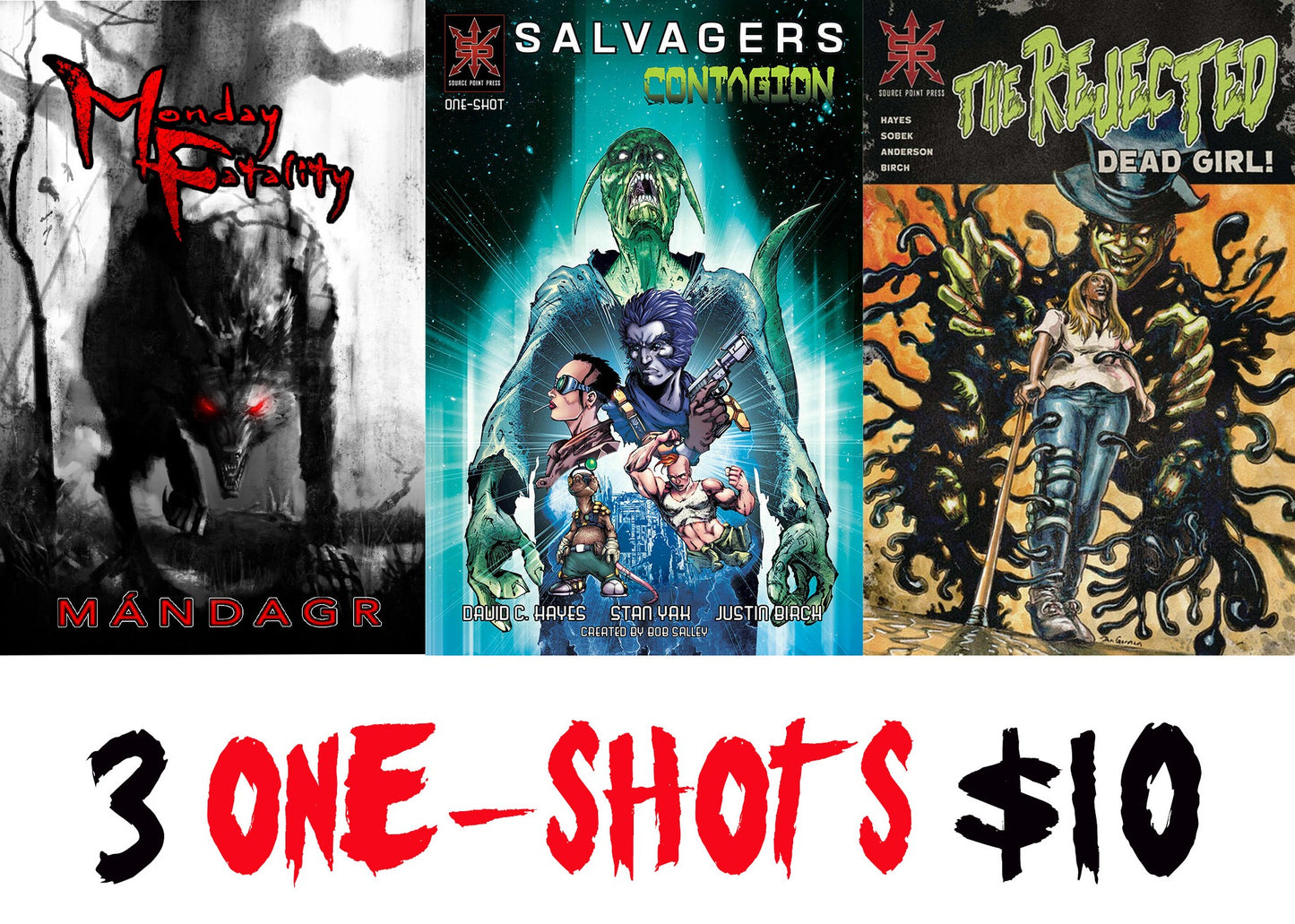 Free Shipping Available

Free shipping available for all orders over $25 USD via USPS Media Mail.